Ever dreamed of an efficient earthen oven that was hot in just 15 minutes?
How about a canning stove that could process 32 quart jars at once?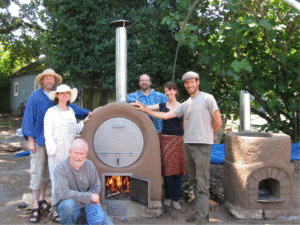 The new Wood-Fired Barrel Oven and Canning stove at Vistara!
Built with students during the Outdoor Kitchen Workshop Series!
These two cooking devices will soon be part of a full kitchen with shelving, a sink, wood-storage and more! They will be connected by counter tops and sheltered by a roof providing ample space to prep and to gather. This will be a resource for the local community!
Vistara has a beautiful garden and many neighborhood fruit trees from which to harvest abundant produce to preserve. The wood-fired canner is quick to heat up and can also double as a soup pot, stew pot, sauce pot, steamer, etc. Both the barrel oven and the canner were constructed with homemade adobe bricks and plaster formed with Vistara's clay rich soil. Thank you to our hosts and the amazing team that helped make this happen!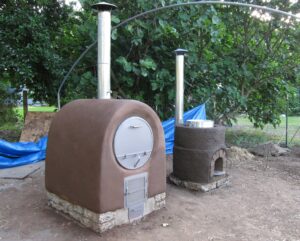 Find out more about The Wood-Fired Barrel Oven.