This is part of a series of articles on heating hot water with masonry heaters and other wood-fired stoves: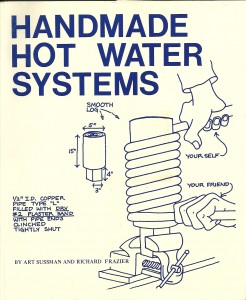 We are currently reading "Handmade Hot Water Systems" by Art Sussman and Richard Frazier. This book has a really down-to-earth late-70's approach to using your existing woodstove to heat your domestic hot water. It encourages the golden combination of using both solar and wood fire systems in parallel to meet your hot water needs year round. The book offers solutions that do not involve complicated nor costly hardware and has a very good section of "recipes" for designing, making and installing components of the system. We highly recommend it. Until we can offer it through another souce, you can find it in Amazon's used books.
Another interesting, more modern book specifically about the solar component of heating water is: Solar Water Heating–Revised & Expanded Edition: A Comprehensive Guide to Solar Water and Space Heating Systems.
We also want to strongly recommend that you check out Hilkoil's Stainless Steel Hot Water Loop which you can install into your existing wood stove or plan into a new masonry heater. We were very pleased about their product and service in designing a custom-coil to install into our recent corner masonry heater project.
We've also learned through Solar Hot Water Plus about Rheem, a company that makes a variety of hot water tanks (the Solaraide series) made for solar hot water systems that have multiple threaded outlets in the right places so that you can plumb a hybrid wood-electric system in the same tank with ease (no secondary pre-heating tank).