A full-scale, hands-on, multi-dimensional, mud-slingin' experience!

Eva will be teaching how to make a barrel oven, a cook stove and a wood-fired hot tub!
10 diverse projects and 10 world-renown instructors!
REGISTER SOON ———-> This program will fill!
One, two, or three week options are available.

SPONSORS
Ashevillage Institute, Kleiwerks International, Firespeaking, The Natural Builders, MudStrawLove, Artisan Builders Collective, Aaron Maret Design Build Studio

DATES & DETAILS
April 24- May 14, 2011
Sunday, April 24: 7-10pm
Monday thru Friday, 10am-6pm
Wednesday evening presentations: 8-10pm
Saturday morning special programs, 10am-1pm
Saturday afternoons & Sundays: Break
LOCATION
Asheville, NC
LEARN NATURAL BUILDING!
The Natural Building Extravaganza offers a smorgasbord of learning opportunities with major movers' n' shakers of this muddy movement. More than 10 building projects to dive into — all about mud, straw, bamboo, timber, fire, and love! Gain direct, hands-on experience through small group natural building workshops, classes, field trips, slide shows, and more.
HANDS-ON PROJECTS
Outdoor kitchen • The barrel oven, a highly efficient wood-fired baking oven • Earthen cook stove • Wood-fired hot tub • Rumford fireplace • Earthen grotto • Adobe arches • Strawbale benches • Slipstraw knee walls • Cob niches •  Wattle & daub fence • Earthen courtyard • Relief, sculpture & embedded mosaic • Exterior & interior plasters • Clay-based paints • Bamboo "living" room & hanging garden • Timber-framing • Wall systems • Material selection • Passive solar design
INSTRUCTORS
Janell Kapoor, Kevin Rowell, Eva Rose Edleson, Steveo Brodmerkel, Mollie Curry, Steve Kemble, Chad 'Fez' Gaetz, Meka Bunch, Ira Friedrichs, Aaron Maret, and guests. Details on bottom half of this page.
CONTACT & REGISTRATION
Email Janell Kapoor at janell@ashevillage.org
(Please include 'NB Extravaganza' in the subject line & remember to mention that you found out about the NBE through Firespeaking)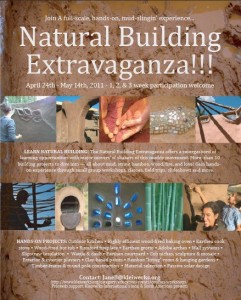 click on poster to enlarge