This summer has been an exciting time to deepen our craft in masonry heater building.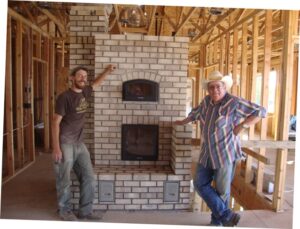 Here, Jerry Frisch of Lopez Quarries and I are standing in front of a heater that I assisted him on in a new house on the Puget Sound in the state of Washington. It is a basic Finnish contraflow design which includes a bake oven and a heated bench on two sides. Other masons from the Masonry Heater Association also came to help out on the heater as the whole effort was part of a fundraising effort to raise funds for the MHA in order to be able to do lab testing on stoves to prove empirically to the EPA how clean-burning and efficient masonry heaters are as they draft new regulations for wood-burning appliances due out in a year or two. A more in depth story will follow…
And here is an interesting project that Kiko Denzer and I just completed: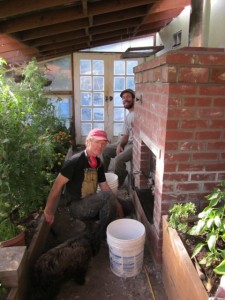 This was an interesting project that involved modifying an existing solidly-built woodstove into a masonry encasing in order to extend its flue path and create mass that would absorb more completely the heat from the wood burned. It has a "bi-pass" damper, which acts as a valve, and allows one to heat up the flue directly. When this damper is closed, the gases then follow a different route: back down, through the bench, and then up to where it re-unites with the original flue. There is another damper called a shut-off damper which is used when the fire has burned out completely to shut the flue system completely and hold in all the amassed heat.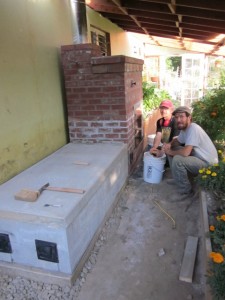 Construction shot showing flue liners in bench: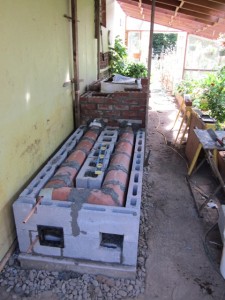 This project also represents a breakthrough for us in being able to do computer-aided design to conceive of and plan a project.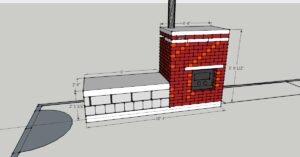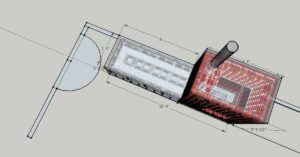 This is simply an update…. we will post much more thorough posts about each project when the dust from the summer has settled! 'Till then!…..