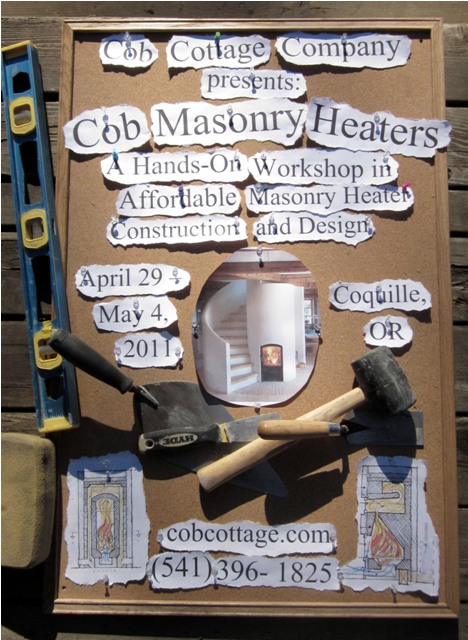 Download and Print a Flier to post in your local Community!
Cost: $1,200
Accommodations:
Includes all meals, camping is available free of charge
Registration, Discounts and Related Information:
Instructors:
Flemming Abrahamsson, Ianto Evans & Max Edleson
Description:
In Russia, Scandinavia and much of Northern Europe houses are heated by huge upright brick stoves, often floor to ceiling, weighing several tons.  Some incorporate a bread oven, some a cooking stove.  Known as Russian Stoves, Finnish heaters etc., they can be faced with decorative tiles (kachelofn).  From a single daily firing with wood, they provide 24 hour slow heat to the whole house.  They are clean burning and use little fuel.  In North America until now your only choices have been to pay $10-25,000 to a specialist mason or buy a kit shipped from Finaland and try to get it right yourself.Flemming Abrahamsson, famous for this stove work in Denmark, will come from Copenhagen to offer this special professional course, possibly the first ever in the Western States.  Assisted by Max Edleson and Ianto Evans, Pyromaniac galore!  They will explore how owner-builders can use European traditional geometrics with adobe and Oregon Cob for a much cheaper version….a revolutionary new concept of a COB MASONRY HEATER will be constructed.Limit is 10 participants – so reserve yours space early!(Sorry discounts do not apply to this course.)
Call Tammy (541) 396-1825 during CCC office hours: MWF 10AM – 2 PM to reserve your spot!