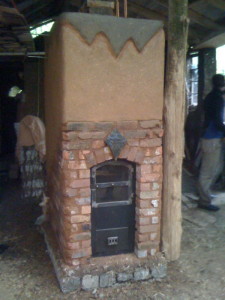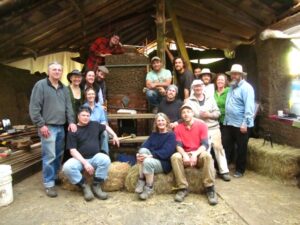 This is a very exciting and experimental masonry heater built by many hands through a workshop at the Cob Cottage Company in southwestern Oregon. The challenge – that Ianto Evans is so consistently a champion of – was to build a masonry heater that was made of local materials and through local craftsmanship. Flemming Abrahamsson, master mason and incredible human being, traveled from Denmark to guide us in the work based on his decades of experience as a heater builder in Europe. The inside of the heater is based on a Swedish 5-run design. It is a single-skinned heater which has a firebrick core and is faced with recycled brick set in a clay-based mortar from clay dug on site and cob. The hardware for the heater was fabricated by Max – his first arched glass door!
The plaster and paint were made and applied during a class taught by Eva Edleson and Jo Forsyth during the Complete Cob Course.
Jon Santiago, one of the participants in the course, documented the build wonderfully in this Facebook album. For those interested in how it was built, it is worth zooming in on each photo.
Join our mailing list for updates about it how it fires and performance through the winter.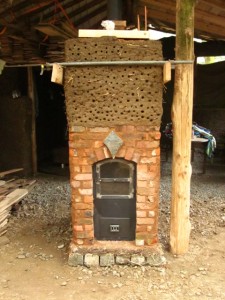 Further reading…..