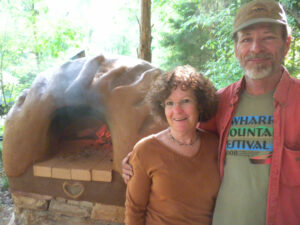 Sacred Grove owners Ellen Whiteside and Tim Beebe
Eva was invited to participate in a wonderful project in a beautiful place, The Sacred Grove Retreat Center in Gold Hill, NC.  Ellen and Tim wanted to create an outdoor kitchen and learn about natural building.  Eva led a four day workshop where we built the oven and learned about how to cook in it.  The oven clay is from the retreat center's 11 acres of verdant forest and provides the oven with it's gorgeous golden plaster.  Tim constructed the roof structure and used a recycled billboard for the roof.  The base, with it's lovely place for wood storage, was constructed by Steven Pettingil all from stones found on-site.
The Sacred Grove outdoor kitchen will continue to develop with the additions of adjacent countertops, storage and a grill and will be used by  the retreat center for it's guests and numerous gatherings.  Thank you to all the friends and neighbors that helped to make this possible and thanks to my mom for the photo documentation of this project!
Click on photos to enlarge them.