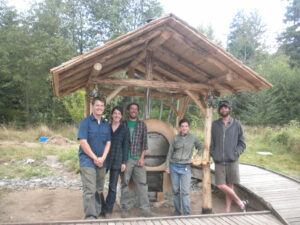 This barrel oven was built in a summer workshop series that Max and Eva led at Hawthorn Farm in Washington. The adobe bricks were made by the oven's owner and friends in the preceding months and the oven was built along with students during a weekend.
The owner, Alexia Allen, has called us to share the joy of having both preparing small meals in the oven, as well as easily hosting pizza parties for over 50 people.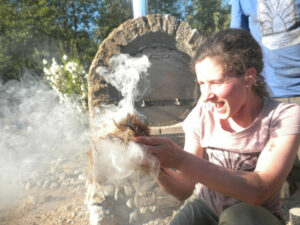 Alexia makes a celebratory fire with a bow drill.
Barrel ovens are efficient and easy to use. They are quick to heat up, within 15-20 minutes of lighting a fire they are ready to bake in. Once hot, they are easily kept at baking temperature for as long as needed.