We have always advocated for placing a wood-fired oven as close to the main kitchen as possible. Well, how about this one! A center-piece right in the middle of one's home to nourish, entertain and derive warmth from.
---
Custom hooks for oven tools also by Firespeaking….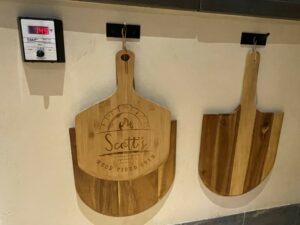 ---
A list of some of our appreciated vendors for this project:
Like so many of our custom projects, this project bears the unique stamp of our clients' and has forged a cherished friendship. We look forward to returning to making pizza and having good times around this oven!
Make sure you subscribe to our mailing list to receive updates about projects like this one and look for an upcoming article in our Journal about the making of this oven.