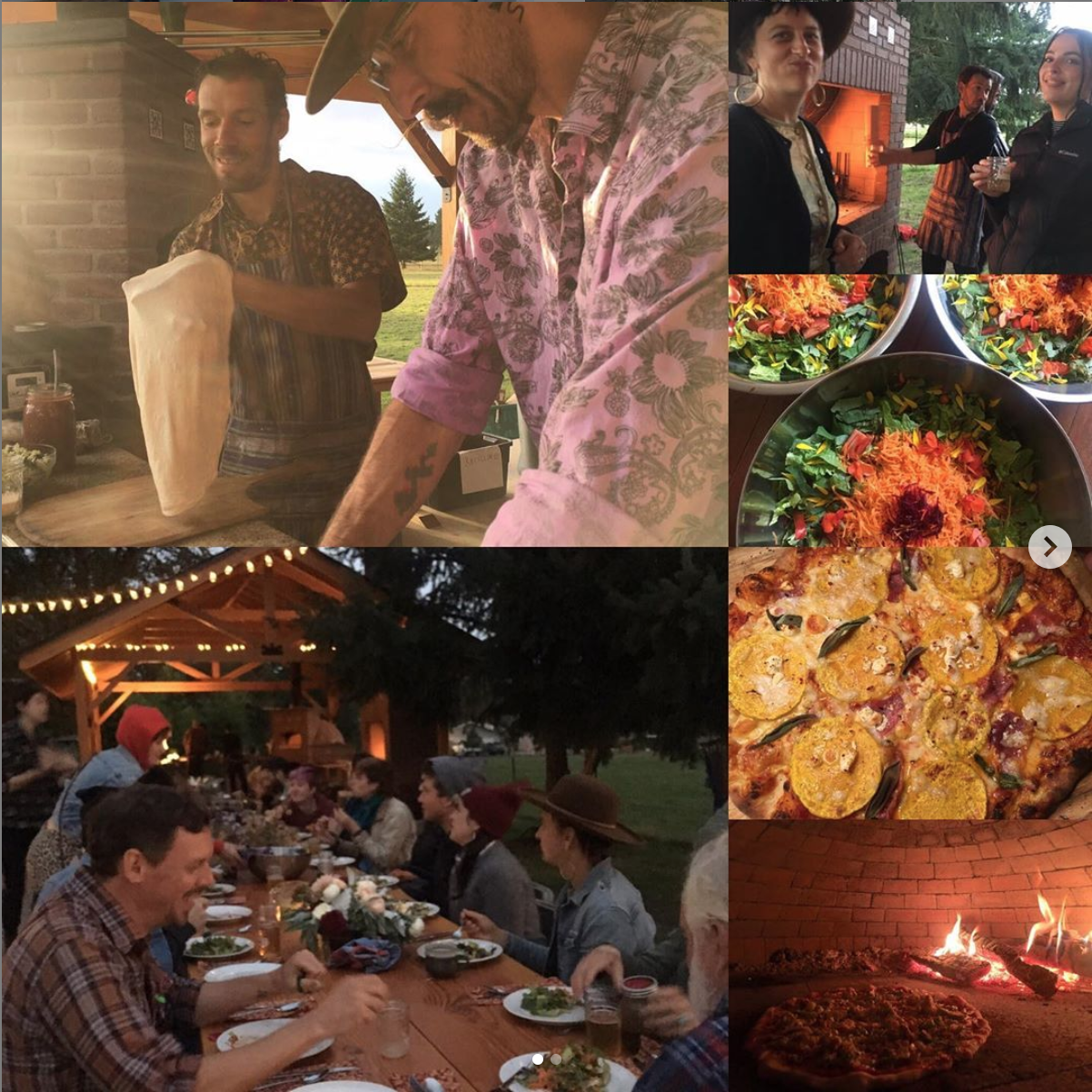 Small farms should be the lifeblood of our economy (and culture!) and yet it isn't always easy for small farms to reach potential customers directly. The Pizza Farm concept allows farms to create an engaged community to enjoy great food and a healthy, inspiring setting. Produce from the fields and other farm products are featured on the pizzas coming out of a wood-fired oven. It is a feast for the senses!
Wood-Fired Ovens are a key part of this experience. They are unparalleled in their ability to cook a large volume of food very quickly. There are a tremendous amount of BTUs of heat stored in the masonry and that heat travels to the pizzas immediately through direct conduction from the hearth, from radiant heat stored in the dome and also from the broiling flame produced by maintaining a small fire during cooking. The quality of the food that this combination produces is recognizably unique and makes a wood-fired oven an important tool in bringing people together and producing a large volume of high quality food in a short amount of time.
---
Here a Pizza Farm, There a Pizza Farm… Everywhere a Pizza Farm!
We first heard of "Pizza Farms" from our cousin in Minnesota who described how there were a noticeable number of farms on the outskirts of Minneapolis and the greater Twin Cities area that were very popular. He described farms where you could bring a picnic blanket and a bottle of wine, order a pizza from the wood-fired oven, and spend a couple of hours in the country.
At Stoney Acres in Athens, Wis., the farmyard is transformed every Friday night between May and October — as hundreds of people come to order organic pizza. Two large, wood-fired ovens dominate the outdoor area between the barn and the farm's commercial kitchen. Old picnic tables are scattered across the yard.

Zoe Sullivan of The Salt, NPR – August 19, 2015
Indeed, it appears that there is a concentration of examples in the midwest, especially Minnesota and Wisconsin.
Resources to learn more about the concept:
Our Experience (during Covid)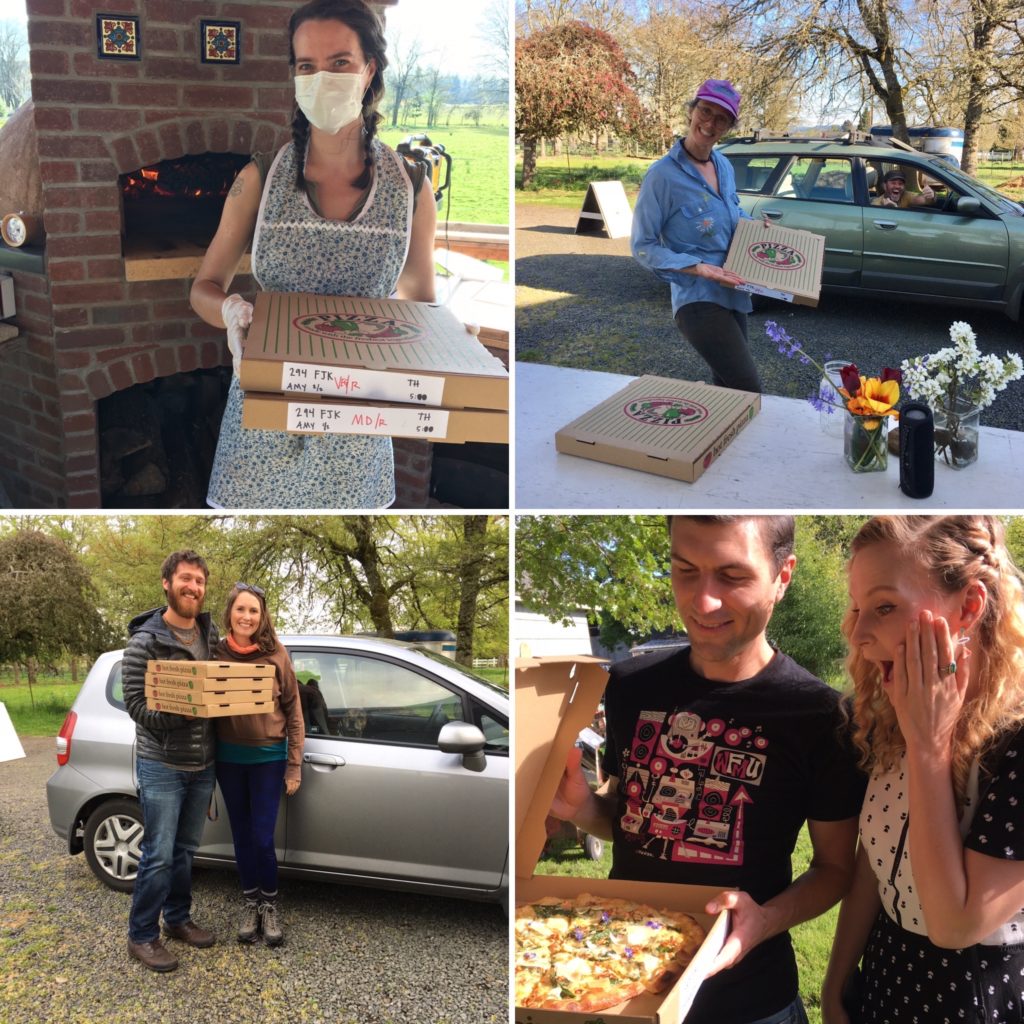 During the COVID-19 chapter of history, we at Long Table Farm have had an incredible experience in reaching out directly to our local community through our Drive-Through Pizza Pop-Up. After 20 years of working as wood-fired oven designers and builders, it has been very rewarding to have finally built ourselves an oven on our homestead and to get to use our oven on a daily basis and recognize its value both as a community resource and as an income source.
The online ordering and pre-payment system are very important to the success of Long Table Farm's pizza sales. We open orders at 10 am on Mondays and typically most pizzas are sold within 24 hours for pick up during specific time slots on Thursday and Friday evenings. We began with a text message to friends and neighbors. Social media provided a way to grow the community around our pizza nights and email reminders to past customers provide good reminders that keep them coming back.
The pizza farm concept has allowed us to meet more of our neighbors and local community who appreciate the opportunity to not have to cook for an evening and to come and pick up some pizzas from the farm.
Use of our oven is not limited to pizzas. We regularly bake bread, roast vegetables, cook beans, make bone broth and stocks, bake treats and do all sorts of cooking with the residual heat from our pizza events. We also use our oven for special farm-to-table dinners and to cater for on-site weddings, birthday parties and other special events.
This experience reminds us once again how wood fired ovens are magnets for community.
Interested in an Oven?
Are you interested in an oven for your farm or looking to create community in your backyard at your school, community garden, church, grange hall or business?
If you're located anywhere in Oregon, we at Firespeaking would love to discuss your project and help you make your dream a reality. You can fill out our client intake form to get your project started. We build commercial and residential brick ovens as well as earthen ovens and occasionally teach workshops. We also offer full design services and can consult on setting up e-commerce sites for pizza sales for clients in any location.
Elsewhere in the United States and Canada, you can refer to the Masonry Heater Association of North America's Member Directory for a listing of qualified oven masons near you.
Further Resources