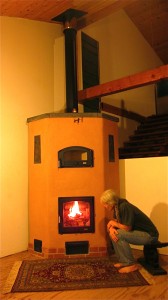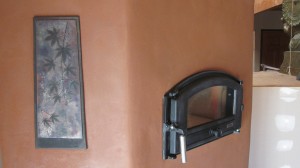 Handmade Earthen Plaster and Raku Tiles
Imagine a wood stove that you only had to fire for two and a half hours in the evening and that the heat produced would keep you warm all through the next day.  Imagine you could bake in it and heat your domestic water.  And imagine that all of that functionality fit beautifully into one corner of your living room!  We are excited about our most recent project, a corner masonry heater.
Amongst the many benefits of masonry heaters, this project rekindled our interest in combining solar heated hot water in the summer with wood heated hot water in the winter.  Perfect complements.  We installed a heat coil in the fire box of this corner heater. (More on plumbing for masonry heaters.)
The water heated in the coil naturally travels upward into the hot water tank and is replaced by colder water coming down from the tank in a process called thermosiphoning which does not require any pumps.  Stay tuned for more information on heating hot water and photo updates of Walt and Marion's corner heater in northern California.