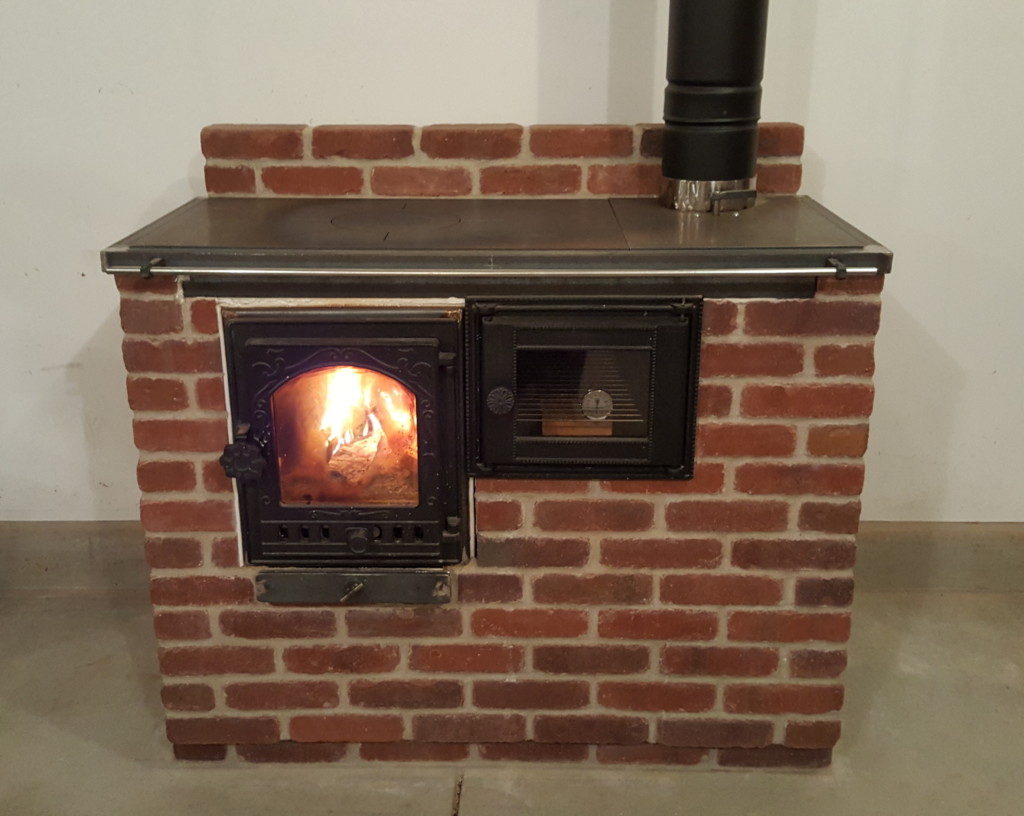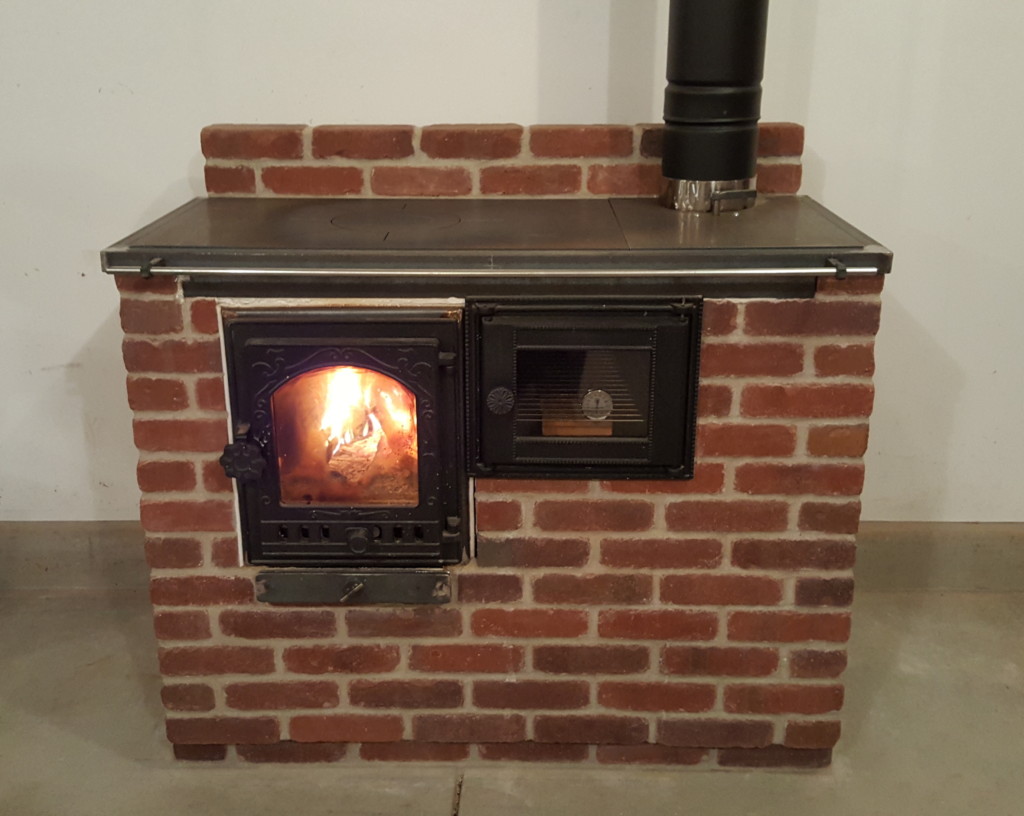 The Shop Cabin Stove is another iteration in Firespeaking's development of The Cabin Stove, essentially a wood-fired masonry cookstove that offers both quick heat and retained heat, cooking facility and is easily integrated into kitchen and home design.  Its dimensions are 24″ (w) x 44″ (l) x 36″ (h). There are channels inside the brick work which provide for a long passage way for the heat generated.  This means that the stove both produces immediate as well as retained heat.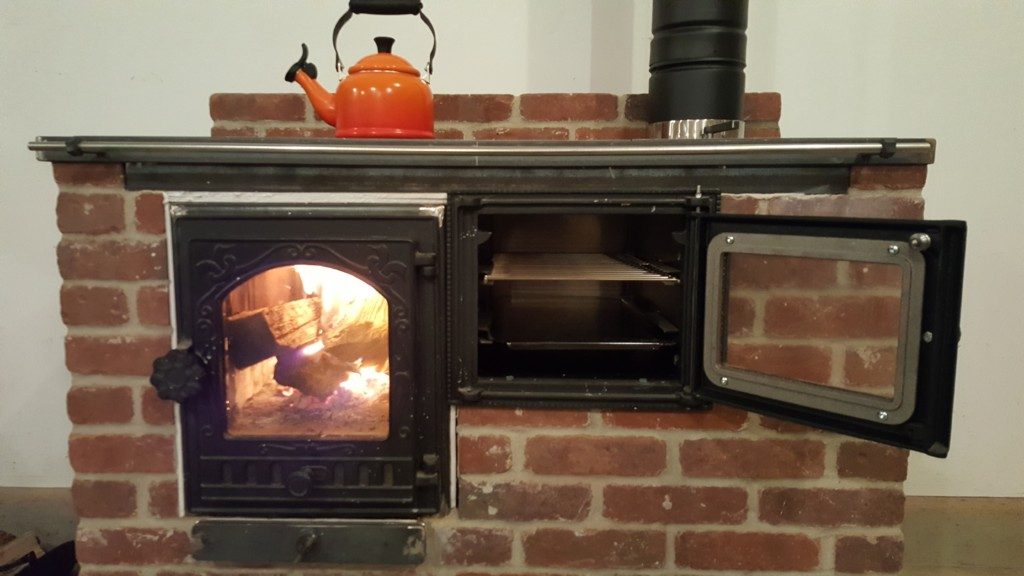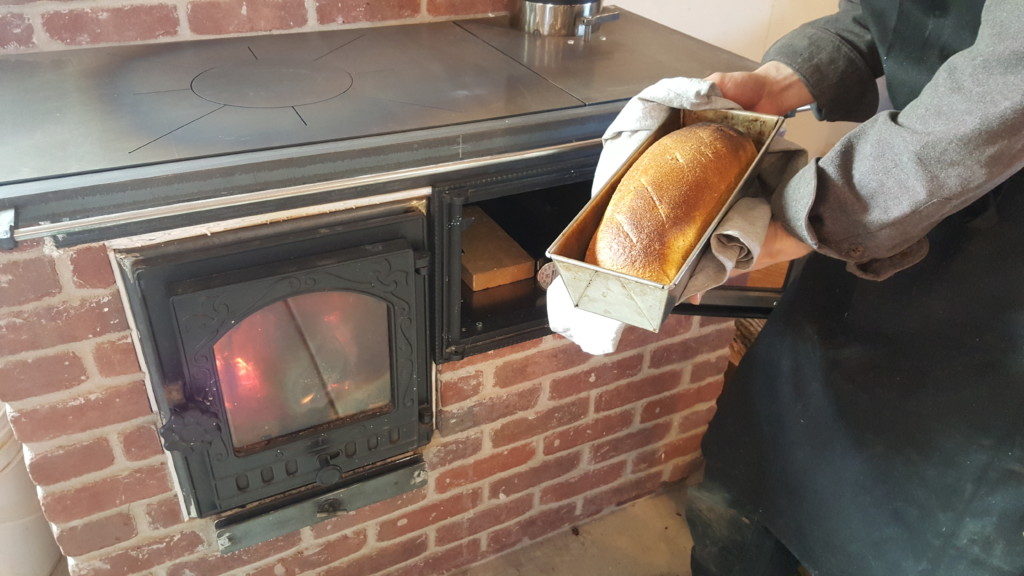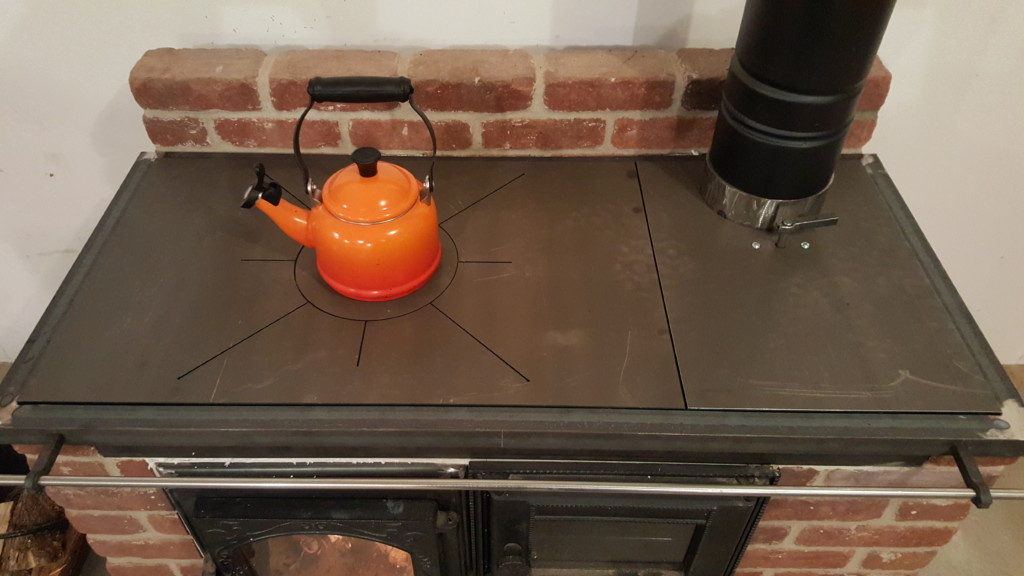 We designed and produced this cooktop. Cooktop fabrication is an exciting area we are working on. The few imported cast iron options do not allow for the level of design integration and flexibility that we would like. Contact us if you would like us to develop a cooktop for you.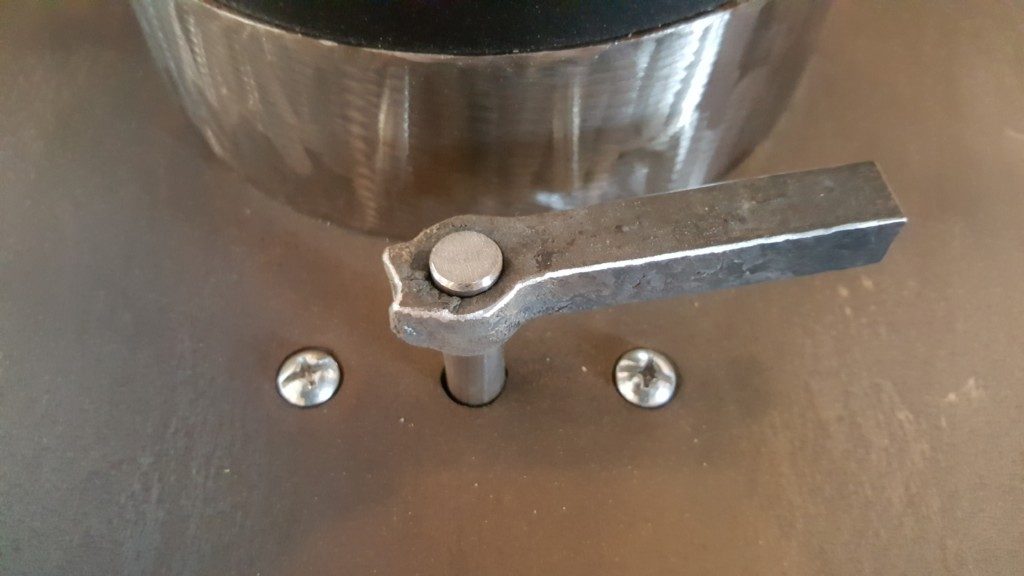 The bi-pass damper is mounted to the bottom of the cooktop. It's generally nice to have a bi-pass damper on cookstoves so you can start it up easily and choose not to load the mass with heat on warmer days.  They can be awkward to position and difficult to mount in a durable way.  We are very happy with this solution.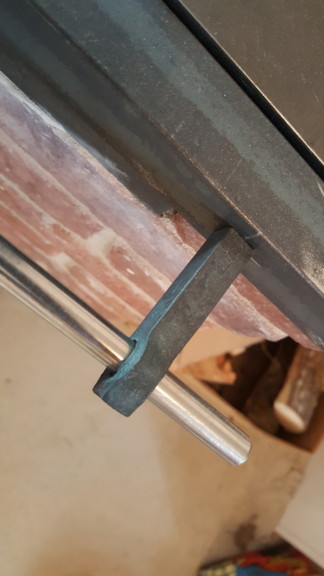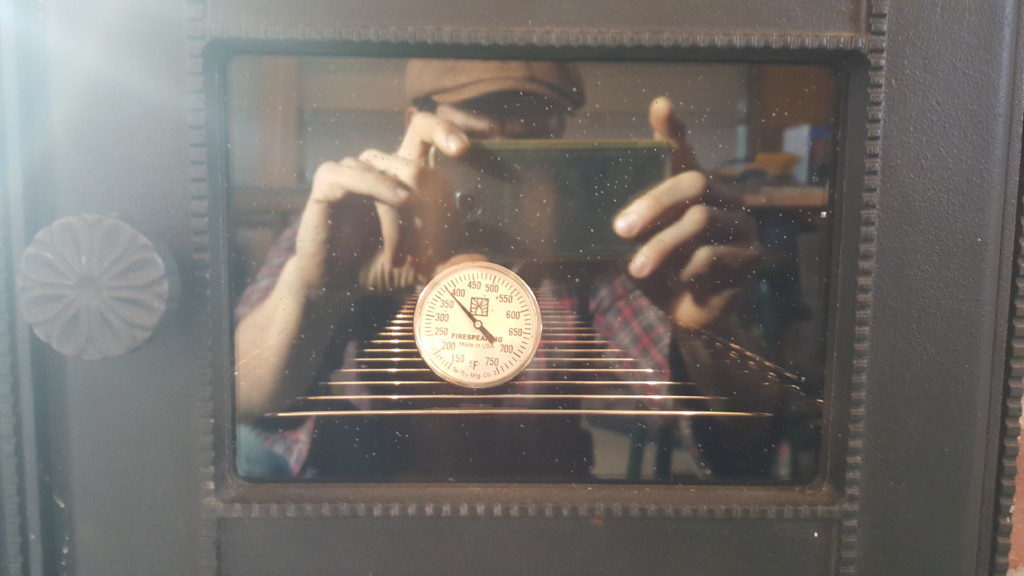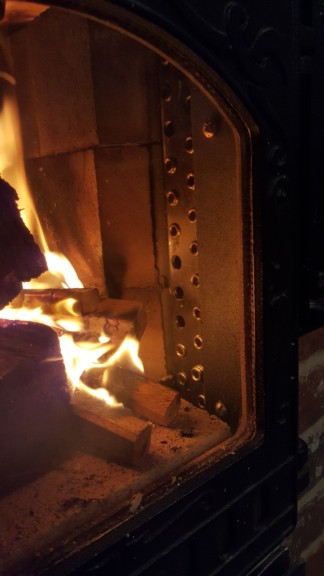 The UPO cast-iron door is set into an air frame.  We drilled and tapped over 70 half inch holes on the sides and top to be able to study the best method of injection of air into the firebox.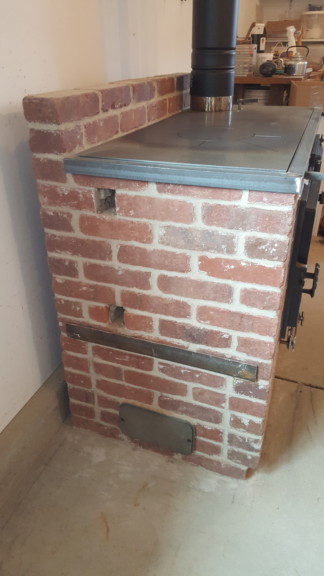 Here you can see a couple of constructive details that could lead to future possibilities.  You can see a sample of the simple cleanout frame and door we have developed to service horizontal and vertical turn-around runs.  The two holes you see were made to accommodate the connection to a thermosiphoning hot water heat exchanger in the firebox.  I have since decided that incorporating the hot water collection into the flue will probably be the best option.  You can also see that we built the base with a stacked bond and lintel so that it will be easy to add a heated bench.  I will be very interested to see how this addition affects performance.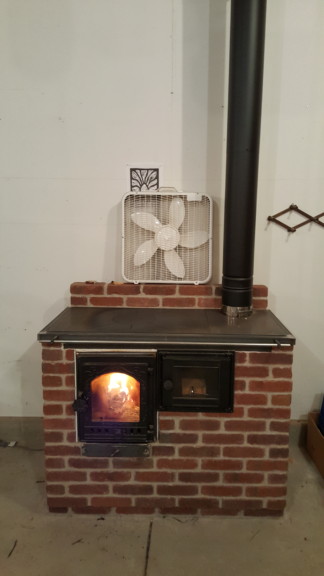 It is invaluable that we have finally been able to build one of our wood-fired creations for ourselves.  Our shop is 600 sq. ft.  Three walls are well-insulated but the fourth has two large uninsulated garage doors.  The whole shop sits on a thick concrete slab.  I include this photo to show that a fan is helpful in distributing the heat generated at first.  A thermo-electric fan would be a great solution. Our experience is that most of the heat felt is coming off of the top for the first two hours but then the mass begins to radiate and emits an amazingly comfortable warmth for the proceeding hours, even after the fire has gone out.  My experience so far leads me to conclude that this iteration of the Cabin Stove would heat decently insulated spaces between 200-600 sq. ft.  Perhaps larger buildings that were very well detailed.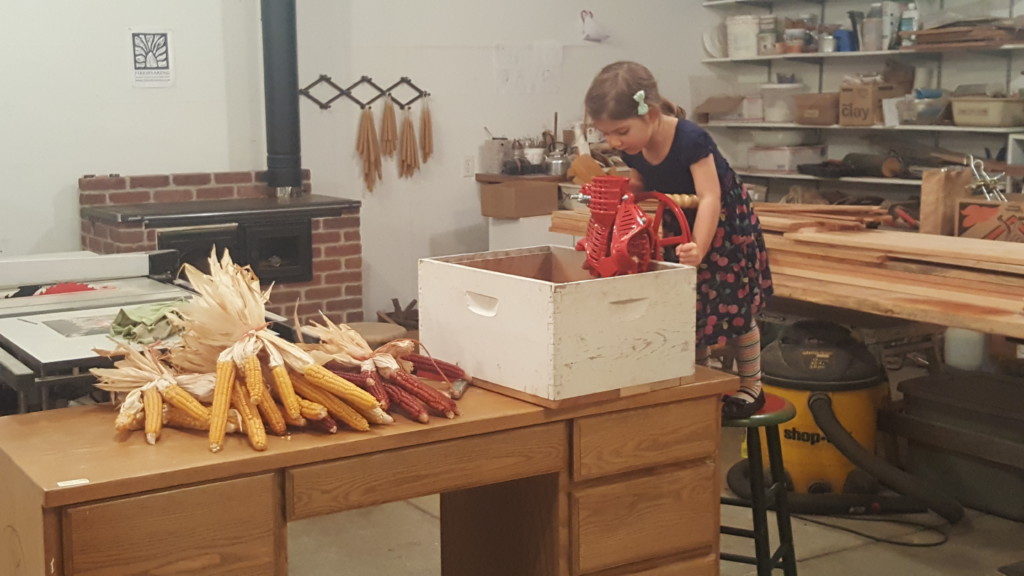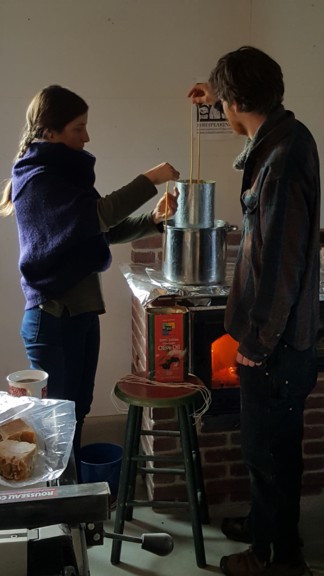 Folk life around the stove!
Next steps: